G'Day I am Andy.
I have been a member of PUBS since August 2017.
​
I began my brewing journey in 2013 after I moved to Australia in 2012.
I knew I was going to miss the English Bitters that I loved back home, and I thought Aussies only drank Fosters! Obviously, there's a thriving craft beer scene here now too, but that was what got me started.
When I started brewing, I went for the standard plastic fermenter and tin of extract approach, but quickly moved on to mashing some specialty grain, then full boil extract and finally my current all grain BIAB setup.
Andy.jpg
Andygear.JPG
My setup is a 55l pot, with false bottom and 4,400 W heating capacity.
I use this to mash in (in the bag) and then I lift the grain out and boil in this pot too. (Brew in a bag).
I tend to chill using an immersion chiller and ice, but sometimes I just put it in a cube and come back the next day.
I ferment in SS brew-buckets, which I love. I have a 3 keg kegerator for dispensing, but I also use bottles for comps etc.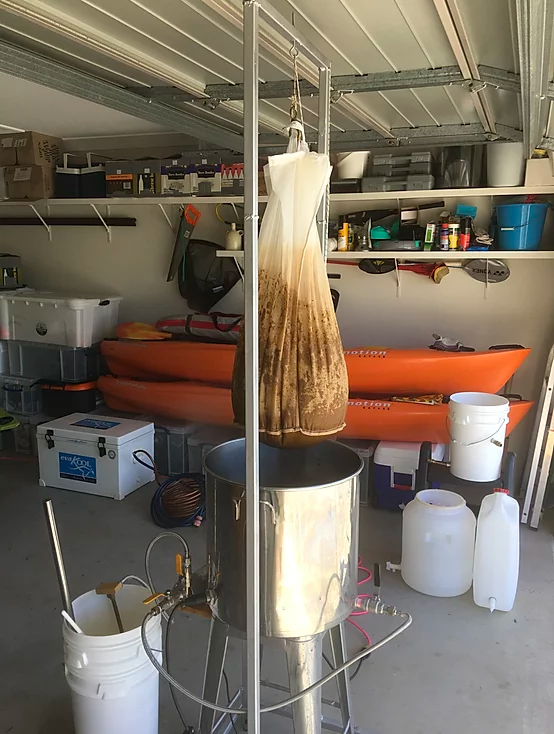 I find that Beersmith software is a big help for designing my beers - especially with the salt additions to my RO filtered water.
I love the English beers, such as Bishops' Finger and Timothy Taylor's Landlord.
Since I've come to Aus, my eyes have been opened to many new beer styles - my current favourite is probably the Former Tenant Red IPA from Modus Operandi.
​
I enjoy brewing pretty much any beer style, but the strong hoppy styles are generally my favourites.
​
I have had a few beers with good placing scores in the Queensland competitions, but no awards as such.
​
I love the process of the brewing - and obviously the product at the end.
I still can't believe that I can make beer that I love to drink - it always seemed like something so inaccessible, but it's actually pretty straightforward
AndyConcentrating.JPG
Greenbeacon.jpg
Although it's very tempting to want to try to make everything and jump from style to style, actually picking a couple of beers and making them a few times, to dial in the process and recipe, is a really good discipline.
You'll learn a lot about your skill and your equipment this way.
​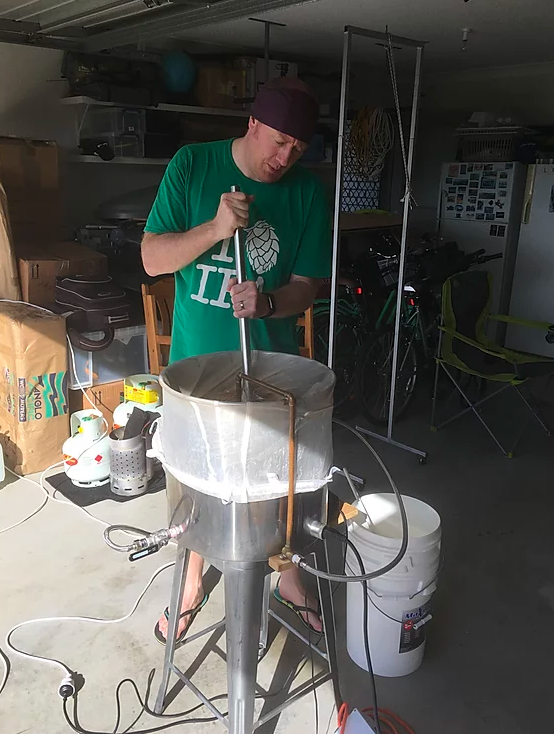 I don't have a mentor as such, although I did get a lot of help early on from my brew buddy Max. I've also learned a lot from the club - some really great brewers there!
​
I've been lucky not to have any real disasters, but I've had wort all over the garage floor at times! Plan your brew-day and don't rush!
​
Although it is easy to get caught up in the minor details when you start out - thinking things like "I really need to absolutely hit 68 degrees for my mash, otherwise the beer will be rubbish" - it's actually rarely as sensitive as you think.
Relax and enjoy the learning. If you keep things clean, use decent ingredients and take care of the beer through the process, you'll end up with a beer you can drink. The rest is refining!